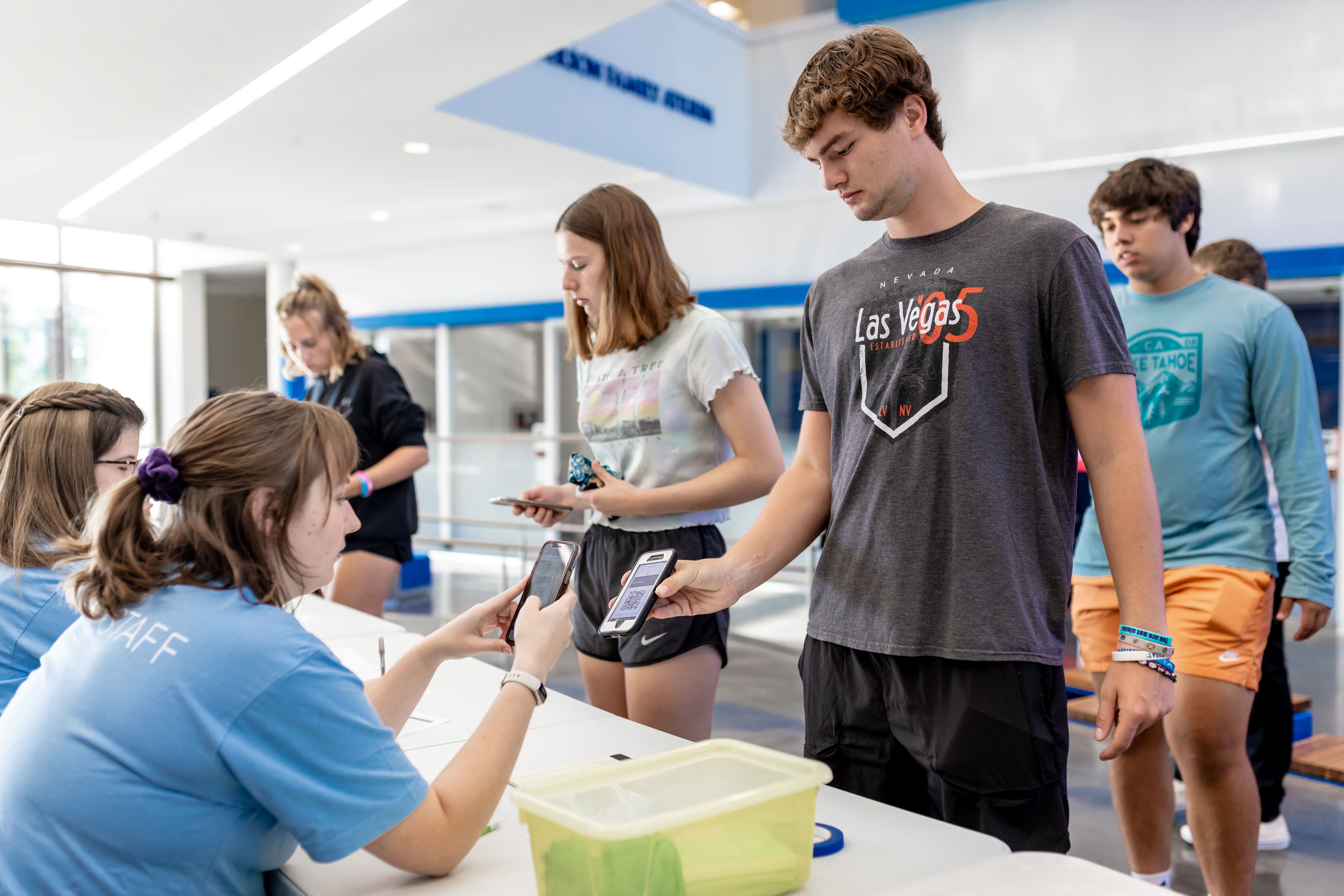 Flock 2022 Report
Learn more about Jayhawks Give a Flock in 2022, assessment of student learning from program, facilitator experiences, and plans for Flock 2023 by reading the Flock 2022 Report.
During Hawk Week, all new first year, undergraduate freshmen will participate in Jayhawks Give a Flock (also called Flock), KU's bystander intervention program. The program provides participants with skills and tools to identify behavior that puts others at risk for violence, victimization, or perpetration. Students participating in this program will gain with the knowledge and skills to take action when they see behaviors that put others at risk for sexual assault. These skills include intervening in situations where others may be at risk of harm, speaking out against rape myths and sexist language, and supporting survivors of sexual violence.
Frequently Asked Questions
Jayhawks Give a Flock (Flock) will be the largest evidenced-based bystander event in the country. The development of a pro-social bystander intervention culture is imperative in primary prevention work on college campuses. Participants will come to understand that everyone has an important role to play in the intervention and prevention of sexual violence. This program focuses on skills such as understanding appropriate levels of intervention, being mindful of personal safety, and different personal options bystanders have depending on the nature of the situations.
Yes. All first-year undergraduate freshmen are required to complete Jayhawks Give a Flock. However, if you feel this program will be a detriment to your emotional health and well-being due to a personal history of sexual or intimate partner violence, please contact the confidential CARE Coordinator at care@ku.edu for an alternative.
Jayhawks Give A Flock will be happening across two different dates on Sunday, August 13th and Saturday, August 19th. The addition of the 13th date is to better accommodate students going through the Panhellenic Association (PHA) process. The three training sites are Wescoe Hall and Capitol Federal Hall.
There will be three sessions of Flock:
Session 1: 9:00—11:00 AM
Session 2: 12:00—2:00 PM
Session 3: 3:00—5:00 PM
Undergraduate students will be assigned to sessions based on their living communities (i.e. Student Housing, Naismith Hall, Fraternity House, Off-Campus Living).
Your site location will be shared with you via your KU email address. Site locations based on housing community will be added to this page over the summer.
Once you arrive at your training site, you will be notified of your workshop's floor and room location.  
Off-campus sessions will be held in Capitol Federal Hall. If your session is in Capitol Federal Hall parking is available in Lot 90, across from the building. KU Parking has more information about parking lot locations.
Yes. KU recognizes that some students may prefer to go through a training with other women/femme individuals due to personal or religious reasons. These sessions are trans inclusive. Both the 13th and 19th will have these session options available. Please indicate during the check-in process if you would like to attend one of these sessions during check in.
Capitol Federal Hall: 1st floor, adjacent to Business Auditorium, Room 1111
Wescoe Hall: Room 3522, ADA Accessible and Room 3523, ADA Accessible (both adjacent to the two large lecture halls)
If you have additional questions or concerns regarding Jayhawks Give a Flock please contact Jaclyn Carpenter at carpenterjaclyn@ku.edu.
Accommodations for students with disabilities should be made through the Student Access Center. They are located in Room 22, Strong Hall, 1450 Jayhawk Blvd. You can contact them by phone at 785-864-4064 or email them at access@ku.edu. For additional information, check out their website: https://access.ku.edu/
Childcare will be provided through Hilltop Child Development Center for children (ages 18 mos-12 yo) for August 19th only. Please contact Jaclyn Carpenter (carpenterjaclyn@ku.edu) to facilitate this request. 
Become a Flock Facilitator
Are you a KU faculty or staff member who is interested in helping prevent sexual violence at KU? Join our community of facilitators! Learn more about becoming a Jayhawks Give a Flock facilitator by clicking the button below.